The client data entry screens allow you to profile your client in as much detail as you wish. For example, you can store multiple addresses, phone numbers, and internet addresses for each client, as well as defining your own date, text, or currency fields to store additional client information. Each client record has its own convenient notepad for tracking client contacts.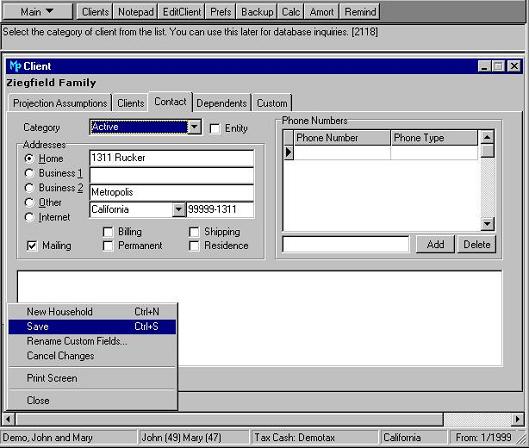 For each family you can save specific projection assumptions, demographic information, contact information, and the names and ages of children or dependents. Detailed projection assumptions for each client give you more control and accuracy in forecasting the future consequences of financial actions.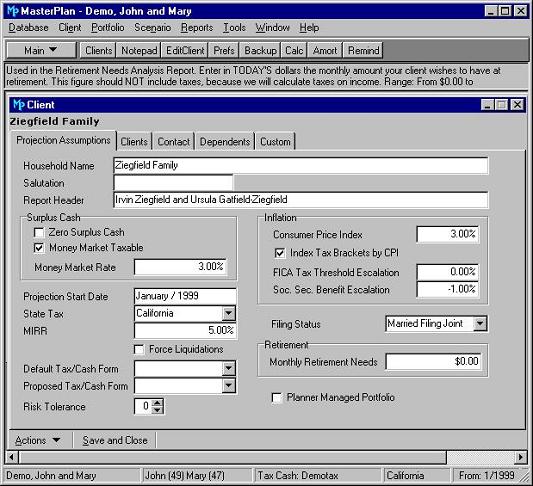 You'll love the convenient reminder system that helps you stay organized and maintain timely contact with clients. MasterPlan will automatically search and list upcoming client birthdays or retirement dates, as well as any important asset dates or your own custom date fields.
MasterPlan for Windows provides custom-tailored data entry screens for each type of asset (stocks, bonds, annuities, cash accounts, real estate, retirement accounts, businesses, and more). You can be as detailed as you wish when defining the characteristics of an asset.
For non-standard assets, you can use the powerful investment model spreadsheet, which lets you control all cash inflows, outflows and tax consequences year by year.
Do you want flexible presentation? Select a report from the extensive Reports Menu, and then make changes using MasterPlan's new report writer. Or, you can send any report directly to Microsoft Word for further formatting.

MasterPlan for Windows also excels in customizable graphing capabilities. You can select graphs directly from the Reports Menu, and then customize the graph type, colors, title, labels and more to suit your style of presentation.


MasterPlan for Windows is available for $995 for a single user license including 6 months maintenance. Maintenance will be $500 annually for the first user and $250 annually for each additional user requiring support. It is easy and economical to purchase additional licenses, upgrade to a network version, or upgrade to internet support. Please see our Pricing Guide or contact the sales department at (800) 229-5080 for further pricing information.


Copyright © 2007, 2008 MasterPlan Financial Software. All rights reserved.